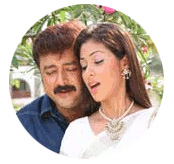 Web Q: When did you decide to make "Novel" movie?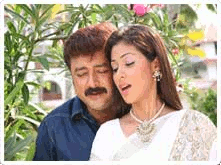 ECV: I started work on this project many years ago. I had the story in mind but did not have the time to write a script. So I entrusted the job with Ashok-Sashi who spent 45 days in Dubai, where I narrated, explained the whole story and had them work on the script. But they left Dubai without completing it which delayed my project for a very long time. In fact at that time, even Mamootty was free. Since the script was very rough and still incomplete, I engaged J Pallassery for reviving the project. I also asked him to suggest an Assistant for myself.
Web Q: So initially you planned the movie, Novel with Mammootty in mind?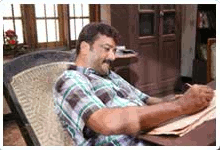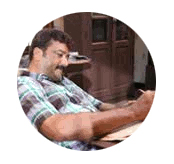 ECV: It was Mamooty who first suggested me to make a movie and even inspired me. Those days we were regularly meeting both in Dubai and Kerala. He was confident about my writing talent, as well as my directorial and organisational skills. He was regularly following up for starting the work but at that time I was not ready to do so . In the meantime, he happened to read the full script of Ashok Sasi (which prior to editing would have taken 5 hours if shot). Thereafter, I found his attitude had changed due to some or other reason. Later, the script was edited by Pallassery and finally by me to make it the 2 hour 15 minutes movie which you saw. But, I never contacted Mammootty afterwards or compelled him for doing it. I do feel that had Mammootty acted in the movie, the outcome would have been very different from the commercial point of view… but, whatever had to happen, did… as it should be. I also firmly believe that whatever happens, happens for good, if not, for the better!
Web Q: You mentioned Mammootty was not available but you had also worked with Mohan Lal. Did he refuse too? What about Innocent? He was always a part of all your stage shows.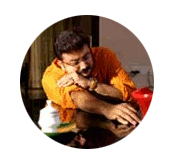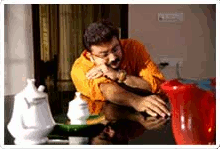 ECV: No, I did not approach Mohan Lal. Mammootty was my only choice after which I was in search of new faces. In fact, this is something I have never told anybody before. In the movie, there is a character Swamy which has been acted by Jagathy Sreekumar and another character Suryanarayanan which was acted by Pallassery. Initially, Innocent was supposed to do the role of Swamy and Jagathy was supposed to be Suryanarayanan. From the day, my concept was clear and my intention to direct and produce the movie finalised, Innocent was aware of the possibility of this important role, which I offered him. He readily agreed and asked me to inform him well in advance, at least 3 months before in order to finalise dates. Once the role had been conceived, we informed him at least 8 months in advance that we would require approximately 30 days for his shoot. He agreed and asked for 2 days time to confirm.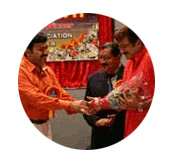 Many days passed, and then he told me that it would be difficult for him to give 30 days for a movie. Then I informed him that it could be cut short by editing to around 20 days. After this he told me to wait another few days to clear certain things. But, I could never get things cleared from him and had to do lot of adjustments and reshuffling at the 11th hour, resulting in mental stress and strain.
In this regard, I am ever grateful to Jagathy for his thoughtfulness and professionalism which helped to solve my problems to a certain extent at a critical time by accepting the role of Swamy for which I wanted 25 days whereas he had given me earlier only 8 days for the other role for which agreement was made between us. I am also thankful to Nedumudi Venu for his sincere and professional approach to me throughout. Both Jagathy and Nedumudi were kind enough to accept the roles even without hearing anything about the script.
Web Q: This is quite shocking because I remember you mentioning that Innocent was a prominent member of your stage shows and that you had very good relations with him.
ECV: Very true. Still I don't know why Innocent was so cruel to me as I have not done any wrong to him other than including him for the gulf stage shows 6 times starting from 1989 to 2004, paying whatever amount he asked in full and giving him all facilities and care during those days when he was with me for the shows. If I don't tell this at least now, it will be a great mistake I will be doing to my conscious… this was the first shock and betrayal I got from anybody after fixing the shooting date of Novel.
Web Q: How it happened to select Jayaram and Sada in lead roles?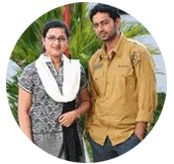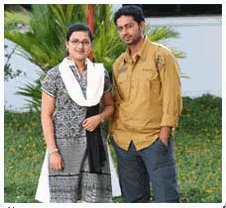 ECV: Initially I was of the opinion to take new faces as I had always been successful working with new people. But my associate suggested I take some known names as lead characters as it was my 1st movie. He suggested Jayaram, who in turn suggested Sada.
He also referred the camera man Azhagappan and other technicians. Pallasery continued to write the script. During this time, I had a fall and was advised bed rest. Those 15 days I used for final editing the script which was too lengthy. Whatever and whoever my associate suggested, I allowed. I gave him the full freedom to get things done.
Web Q: Then what went wrong? You seemed to have been treating him very well.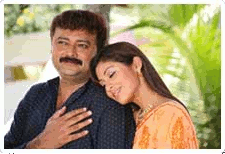 ECV: Though this was my first film directorial venture, you know, I had earlier directed and produced stage shows and the music videos and even a tele-film. So it was not my first attempt at direction. I had proved my capabilities for years before.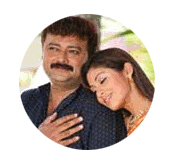 On the 3rd or 4th day after shooting was started, I called a meeting and told everyone that this was my story, my direction and also it is produced by me and I wanted things to be done as the way I would like to.
My attention to detail was noted and even Sada was quoted in an interview saying that had she not known, she would have never guessed that it was my 1st film directorial venture. She said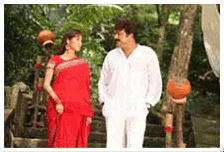 she had worked with over 20 directors, but none as meticulous as me.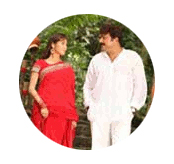 One instance I remember was when we were shooting a scene where Jagathy had to get out of the car and Jayaram had to drive away with Jagathy running behind the car. My associate stopped the traffic for shooting this scene but I insisted on the traffic continuing as usual to lend it authenticity, without knowing that prior instructions were from him only. The scene was shot and canned and appreciated by every one.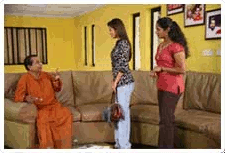 The same afternoon there was a location shift and I found him in a totally irritated mood. Then I issued a general statement that if anybody was not happy with the way I was working, they could leave. The very next moment he said I'm leaving and he left. Jayaram requested me to call him back and I had no ego issues, I called him. But he refused. He was not only responsible for direction, but also promotion and production. We then had to manage with his assistants and things started moving. A few days later the camera man Azhagappan wanted to go for another movie which he had committed earlier.
Web Q: Looks like once the problems began; it only increased as you continued. Also 
wasn't Meera Jasmine your first choice?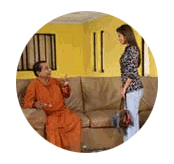 ECV: In fact Prasanth Madhav, the art director also left in the middle to work in another movie involving a superstar, though he was committed to my project. This shows the clear attitude of certain people who will do anything for money and fame. I had complained to MACTA about this but didn't follow it up after he pleaded with me not to, and left him to the mercy of God…
About Meera, yes she definitely was my first choice and even today I feel had she acted in my movie, Novel w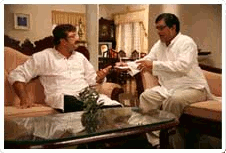 ould have got a totally different reception from the viewers from the commercial point of view. As you know, eventhough Sada has acted extremely well who gave me wonderful co-operation throughout, being a non-malayalee new comer, Sada was not accepted by the viewers, especially for such a role. The mistake I did with Meera was that I did not approach her directly. It was through the PRO when she said she would not be able to commit dates as her schedule was tight. Had I approached her directly and narrated the story perhaps she might have agreed. But I don't blame her for refusing as I believe each artist has a right to choose their projects.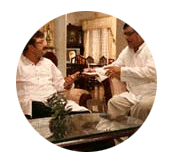 Web Q: If I read the article right, I think it said that your next issue was created by the Music Director, Jayachandran who in real life is your protégé? It's amazing how people change when they taste success.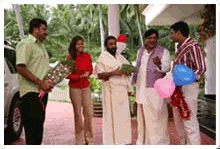 ECV: That is still a nightmare for me. You said you have read about it. I don't want to say anything further as I may lose my mental balance if I start telling about it.
Web Q: After all these issues, were you able to release your film on time?
ECV: Yes. That is the fact I'm most proud of. There were many who thought my film would not be completed. I was so focused that I was able to not only complete the movie but also release it on schedule as planned to the theatres. We started shooting in August 2007 and Novel was released on January 11, 2008.
Web Q: Though I don't watch many Malayalam movies, I did not see any promotions or read any articles in the media about the film. Did you not plan any publicity or promotion campaign?
ECV: Jayachandran's responsibility for promoting the movie was big; as the music director of 5 songs of novel, as the one who has done the re-recording and as an actor (although it was a small role). You know what he has done in this case. Whatever be the facts and situations, I can very well say that the promotional activities of Novel was absolutely nil from the part of me as a producer and also as a distributer, directly or indirectly.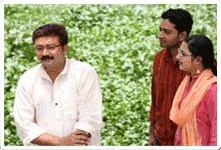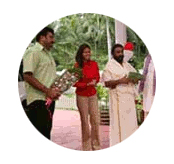 As the Director I was busy with the final touches of the movie and had neither time nor support for marketing & promotions. The Distributors too did nothing as it was a free distribution for them. Jayaram was not ready to attend the Press Conference and the series of Talk shows in colleges and channels which we had arranged for the promotion of the movie. Most of these had to be cancelled because of his absence. Only Sada came and attended for 2 days. Being a non-malayalee, she could not actively attract attention for these channels and colleges. The truth is that Jayaram had been very cooperative while shooting; it was unfortunate he did not participate in the promotions and publicity. It's like that saying 'using a pot to carry water the whole day and breaking it at the end of the day!'
Web Q: But that's so strange. It seems they did not realise that the success of the movie would add to their list of successes and its failure would figure among their failures too! I understand it did not do well in the theatres.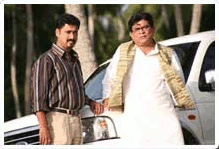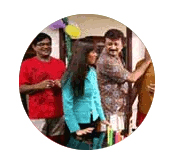 ECV: The sad part is that there was very little awareness because of the low publicity. It was targeted towards families and the movie was removed from the theatres by the time families wanted to see the movie after getting an opinion about it. But it did not get a single bad content review except from certain people who were writing something for the sake of writing. I am sure most of these people wrote the comments even without seeing it! I was personally very happy with the final product.
I liked the movie very much. But one comment I received was that the songs depiction was not to the taste of the audience as they had different visuals in mind as these had been heard earlier from albums.
Other complaints were that the music of 2 of the songs were changed. For the movie I had to make some situational changes. Either the same album songs in certain cases or the same lines with a change in music in some other cases were incorporated. The climax of the movie was a song and my focus and the story was built around it. All the songs in the movie were almost an extension of the script. This is a movie which I have made in the way I wanted without any commercial ingredients.
Novel is a message to most of my detractors and in all fairness; it was not planned as a commercial feature at all.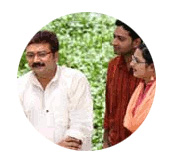 Web Q: Are you saying that even if there had been no issues, the movie would not have been appreciated?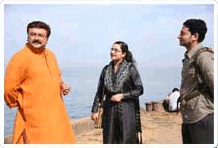 ECV: No. That is not what I meant. Perhaps it would have had a higher level of audience acceptance had I been able to make this with my original star choices Mammootty and Meera Jasmine. Jayaram is talented but his market value has been falling at that time and Sada was a new face for Keralalites. But I was of the opinion that if a good movie is promoted well, it can definitely be a commercial success. Novel did not have a commercial angle to bring in the audience or any such ingredient for an initial pull, but I was very confident of my story and the way it was presented.
Web Q: How badly has the failure of Novel affected you financially?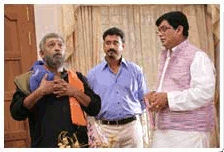 ECV: This may surprise you. I spent close to 1.5 Cr on this project but I earned much more in return! I lost money in the re-recording the DTS works and re-shoot of a song for 2 days because of the art director who left suddenly. I lost money because the movie was pulled out of theatres earlier than planned as a result of which families could not get a chance to view the movie at all. Generally families wait 2 or 3 weeks after the release of the movie to start going to theatres by which time Novel was not in theatres.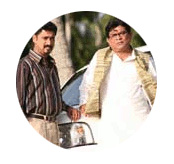 But, I paid each and every person connected with the film what they were promised, despite my expenses. You will not hear a single person associated with my projects complain about non payment for their services, no matter how big or small. In short, though Novel did not make money, all financial commitments were honoured.
Web Q: You say you earned much more? But you have been giving me only details of losses!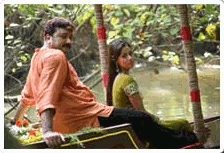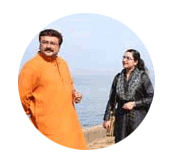 ECV: Can you put a value on education or knowledge? That is the value I place on the experience I gained. For me the commercial loss is a fee for the learning I received during the making of this movie. The lessons were not only on techniques in film making and direction, but also in psychology and how people behave. I have gathered enough knowledge from this experience to cover the cost of education, had I followed a formal course in these areas. So I consider this an investment and not a loss. Moreover, you must be remembering a point which I told you in the beginning that this movie is a reply to many for their comments and remarks on me. Whatever I spend towards that I don't consider it a loss, but only a genuine expense.
For me, success is not measured in terms of money. Creative satisfaction is paramount. If I was a bad director, all my shows, videos etc would have flopped earlier. So I don't take it as a personal failure either. I kept spending money just for quality. But I would genuinely be interested in hearing comments on my directorial skills. Had the marketing been done better, and more awareness been created, Novel would have been a commercial blockbuster!
Web Q: I agree. Some movies make money just because of aggressive marketing. Other than knowledge gathering what else did you earn?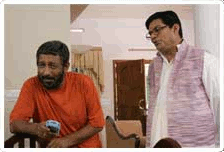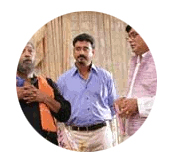 ECV:The so called 'Commercial' failure of the movie Novel was the biggest blessing I could ever have received from God. Till then I was not serious about the businesses aspects of any of my companies. I was not even checking on administration, marketing or finance. After this failure I reviewed my entire organization structure and understood that a lot of my own employees were insincere and not committed. A lot of cheating and betrayal was happening all around me, resulting a total standstill for my activities. I had to completely review and revamp my organization, which is with the help of some new people, after saying goodbye to those who were with me earlier.
Had Novel been a commercial success, I would not have got this opportunity to revive and re-shape my businesses. I would have continued ignoring the things that were going wrong within me and my organizations. After 6 months we've reached break-even for my Indian operations which were in huge loss and now it can only get better. This setback helped me to revive my businesses not only in India but also in Dubai.
Now I am at peace that things are running smoothly. This is why I call this failure as God's blessing. When somebody is committed and sincere, sooner or later it will be acknowledged and appreciated by people and also blessed my GOD.
Web Q: Earlier, when you faced a setback in a situation, you moved on to the next medium. What next?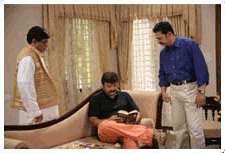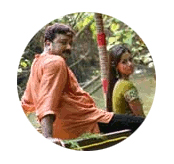 ECV: Yes, I moved from stage shows to music albums and then to movies. But these were all just outlets for my creativity. It was not as if I was leaving behind the old for something new. I did stage shows even after doing music albums and even now I am working on my next music album. I have already started planning for my 2nd movie too. As you are aware, I have organised and directed the show 'SRAVANA SANDHYA' on 9th August at Trivandrum Senate Hall which was rated as one of the best shows ever held there. LYRICS AND TUNES ARE READY FOR THE NEXT ALBUM IN NINAKKAI SERIES, '' ENNENNUM'', WHICH WILL BE RELEASED BY THE YEAR END. I am also planning many other audio- video releases within the next three months. Today I finally have a team of committed professionals to assist me in all these. I enjoy direction and will continue doing so.
Web Q: How about writing your autobiography? I am sure you will have many experiences to narrate and stories to tell. Even this interview has gone for over 3 hours now and we have not yet completed.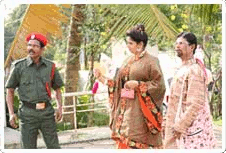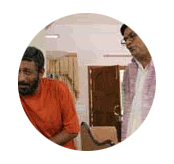 ECV: Even earlier when I was working back in India, my first job included a lot of travel. I gained so much knowledge and enjoyment on those journeys. There are hundreds of faces and incidents which are still alive in my mind. If at all any time in life, I happen to write a book, those memories will be of great importance.
At present I have no time to write and publish a book. I am busy with many things both in Dubai and India. It seems my fate that I have to work out everything myself. I feel alone even though I am surrounded by many. If I hire someone to write my book, I will have to spend enough time for editing & checking . So I feel it is better to write the book myself when I get time.
Web Q: Poets are supposed to be sensitive and mild people. In your case most people say that you are a very tough taskmaster and that you very seldom even smile!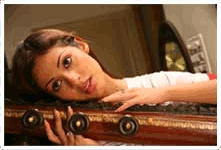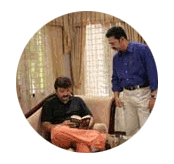 ECV: You seem to have heard a lot about me! (Laughs). I agree I am a tough taskmaster. Any one who is a strict professional will get this name. I am a disciplinarian at work and I cannot easily tolerate silly mistakes and unnecessary delays even after I have explained things over. Some people are not punctual. I seek perfection. I don't behave like an owner. I behave more like a General Manager who is involved with each and every department of the business. These are things the average employee cannot tolerate. Hence these labels of heartless, cruel and everything else are used to refer to me. I know people even say that I do not laugh often enough. to them I can say, I laugh only when I feel like it. The fact is also that if I laugh on some occasions it may end in tears for many!
Web Q: I also read somewhere that the failure of Novel had almost sent you into a depression and that you had become very introverted etc.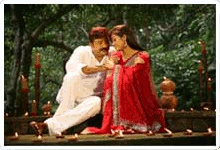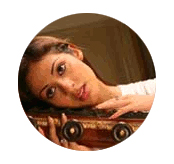 ECV: (Laughing). Why, do I look depressed to you?
Web Q: On the contrary you seem ready to take on bigger challenges now that you seem to have comfortably put the Novel episode behind you.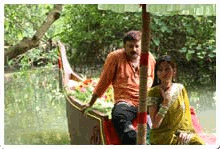 ECV: But that is where you are mistaken. I am not finished with Novel. Wait and watch. Novel will have a re-birth! It can be in any shape. Pl wait and see. This is definitely not the end!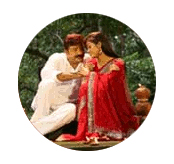 I left him on that high note and I realised what he had told me of his past was true. His motivation comes from within. He sees failure only as new opportunities or gains. Neither criticism nor lack of recognition worries him. It only makes him stronger. But despite all that tough talk I wonder, how is it possible to write such emotional and moving lines and still appear so heartless in public? Or is his the same story of a successful man being maligned just so that his detractors may enjoy a joke or two? The answer will surely come in his next music album/video/film. Till then, along with his fans who thought of this unique way to clear his name, I wait.