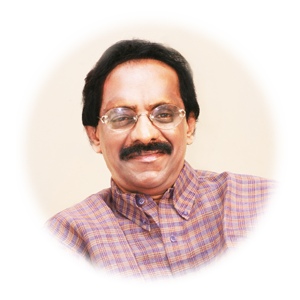 Born to Devaki Amma and Vasudevan Pillai, KARIKKATHIL VASUPILLAI SURENDRAN PILLAI, nick named as 'Vijayan' was brought up in Malamel, a village nearby Anchal in Quilon District. His first big achievement was graduating in Mathematics from St. John's College, Anchal.
Along with his logical and 'mathematical' brain, he discovered the art of self expression through the media of poetry. He started writing poetry and entering in song composition competitions while at College and won prizes. His first published poetry appeared in the St. John's College Magazine and thereafter in a local, popular magazines of those times.
His first job was with the Stock Verification Team (SVT) of Directorate of Purchase and Stores (DPS) under the Dept. of Atomic Energy (DAE). The DPS is the centralized purchase and stores unit for all the units of DAE including the Bhabha Atomic Research Centre (BARC), Trombay, Bombay. His work included frequent travel to various units of DAE, situated all over India, which exposed him to the rich diversity of Indian culture and languages.
Though happy with his life and situations in India, the 'seemingly' greener pastures of Dubai beckoned him as it did to most of the Kerala youth of that generation.
In Dubai, he started off assisting his brother's business ventures but later, Vijayan decided to move on to a world of his own thoughts and imaginations. Read more about his life in Heart-to-Heart.